Windows 10 New update Features
As ever, within one year, Microsoft will do a massive upgrade of 2 times. Usually in May and October, but this year the second new update takes place in November. The second major update this year is called November 2019 Update with the code Windows 10 1909. Some details of the changes in this Update Microsoft explained in its official page which is translated like this; Windows 10, versions 1903 and 1909 share the same core operating system and a set of identical file systems. As a result, new features in Windows 10,
version 1909 are included in the latest monthly quality update for Windows 10, version 1903 (released October 8, 2019), but are currently inactive. These new features will remain inactive until activated using the enablement package, which is a small "master switch" that is quickly installed that only activates the Windows 10 feature, version 1909. To reflect this change, release notes for Windows 10, version 1903 and Windows 10, version 1909 will share an update history page. Each release page will contain a list of issues intended for versions 1903 and 1909. Note that the 1909 version will always contain fixes for 1903; however, 1903 will not contain fixes for 1909. This page will give you build numbers for versions 1909 and 1903 so that it will be easier for support to help you if you encounter a problem. For the Windows 10 1909 download link we only provide a 64-bit version via MediaFIre which we put at the end of this article. But do not be sad, for those who want to download another version or via the Microsoft server can directly listen to the tutorial.
Microsoft has already begun pushing Windows 10 1 909 to Windows Insiders in the Release Preview ring and Microsoft has added it as an option to WSUS. It is clear that with this information, and other instructions. Provided on Twitter, that Windows 1909 has a good chance of being released during the coming week. Now here are some new features in Windows 10 1909. Microsoft is now releasing two major updates to Windows 10: one in the spring and one in the fall. In mid-November, Microsoft began rolling out the fall update, called Windows November 10, 2019 Update, or just in 1909. Unlike previous updates, Microsoft has not introduced many new features. Instead, it is an update that focuses on stability and performance. One explanation is the failure with last year's autumn update (1809). For some users, it caused files to disappear, which temporarily forced Microsoft to revoke the update. The caution makes 1909 the smallest Windows 10 update to date, and perhaps it should have been described as a service pack. Microsoft released Windows 10 Build 18362.10024 to Windows Insider Slow Ring, a sign that the version 1909 or November 2019 Update (code 19H2) is nearing completion. And will be out for an upgrade soon. This means that people who like to try new technology will soon upgrade to Windows 10 version 1909, but for those who aren't ready to upgrade because they want to be sure that there isn't a problem with their work. Or for any reason Can prevent Windows 10 from upgrading to version 1909 by following the steps below.
Alexa, Cortana and others on Lockscreen.
Microsoft has worked with Amazon to improve the Alexa experience on Windows 10 and Amazon has made it quite easy to use Alexa with your PC. With Windows 1 0 version 1909, Microsoft will allow third-party digital assistants such as Alexa to activate the sound on the lock screen. In other words, Alexa will immediately work on the lock screen when windows are opened – all you need to do is ask her.
Create a Calendar Event from the Taskbar
Windows 1 0 also gets a new feature that allows you to create calendar events directly from the taskbar. File Explorer uses Windows Search File Explorer has been updated with Windows Search integration and traditional index results will now also include your OneDrive content.
Performance improvements
If the processor that powers your PC supports a "preferred" core, users will see an increase in performance because Microsoft has implemented a new rotation policy that will send more CPU intensive or important tasks to cores that operate faster. Thus some of the new features of Windows 10 1909, for those who have the original windows get ready to receive this latest update.
Windows 10 November 2019 Update, also known as version 1909, is the latest update of Windows 10 and has been released for a few weeks now. To date, this is an optional download, as is now the case for all updates with features. There is, however, one exception: all users left with the Windows 10 October 2018 Update (v1809) are receiving the Windows 10 November 2019 Update in these hours. Thanks to changes recently applied to Windows Update, Microsoft no longer forces users to accept and install new updates with newly arrived features. However, there are exceptions to this rule to encourage the safety of all users: specifically, if you use a version of the operating system that is preparing to reach the end of the support, Microsoft forces the user to update to the latest version. Windows 10 v1809 is now a year older , and it is within a cycle of updates that provides for the termination of support after 18 months from the first release. The update's life cycle is therefore running out, and the time has come to update for stationary users to the autumn 2018 version. We have seen the same script with Windows 10 v1903 , which was automatically offered to users with the v1803. The good news in the case of the November 2019 Update is that it is a 1903 version with some very small additional features , for an update that is now more than consolidated and that should not present any type of problem. Following the links below you can read all the news of Windows 10 November 2019 Update and those of Windows 10 May 2019 Update (v1903).
How to update windows 10
Microsoft updates are sent out automatically, so you don't have to do anything yourself. You get it when Microsoft thinks that your computer is ripe to update and it is therefore delayed if the update is judged to work poorly with any component of your computer. In other words, the above users should do nothing but wait. However, there are ways to force the Windows update , for those who dare to take the risk. The reason to see which version of Windows 10 you are using is because each version of Windows 10 has a different way to block automatic updates. Looking at the version of Windows 10 that you are currently you can access it from Start> Settings> System> about. The window will show the following details.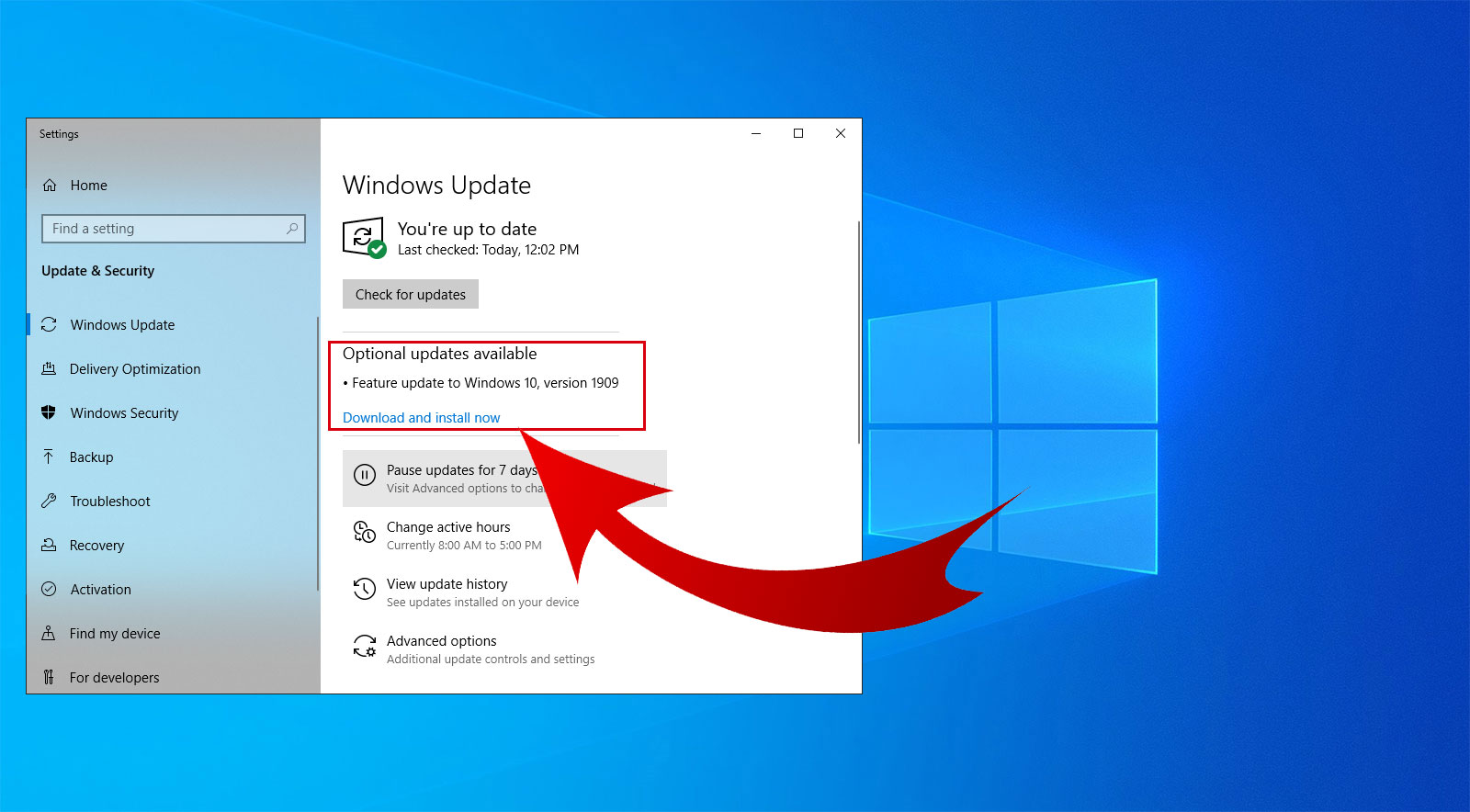 Beginning with users with versions of Windows 10 that are lower than 1803 and below, in order to get the most effective blocks at this time, please hurry to update the Windows 10 operating system to the version. 1903 as version 1903 comes with improved update management features If possible; it should be updated within this week before Microsoft released the 1909 version update. Note – You should not press the Check for updates option on the update screen because it may cause the Windows 10 operating system to retrieve the latest update version 1909 instead. Therefore, go into the Update window. Allow the system to update manually. For those who are using version 1809, you are able to set up update blocking as well. However, if possible, you should hurry to update windows 10 to version 1903. Better yet, if you still want to stay with version 1809, then you can go into settings to extend the device update. As long as you can To do so, go to Start> Settings> Update & Security and choose Advanced options, then the various options. On this page, choose the setting as in the picture above (and as always, don't forget to click Check for updates). Note – The above method is only available for those using the Windows 10 Pro operating system. If you are using Windows 10 Home, quickly update to version 1903 and see how to block in the next step. Go For those with the Windows 10 operating system version 1903, you can access many options by going to Start> Settings> Update & Security. However, if your device has been released with the 1909 update Coming out, don't click on Download and install now. You can just stay on windows 10 version 1903 for a long time.
Faster calendar
The clock in the bottom right corner of Windows 10 has a connection to your Outlook calendar. Nowadays, you can also quickly add a calendar event or reminder from here. HOW? Click on the clock and you will see a new box called Add an event or reminder. Choose a date and enter any text. Add time and space if you like – and select Save.
Clear the notifications
Notifications are the window where different messages are collected. If you want to control how these are displayed, you have got a few more options – and an easier shortcut. HOW? Click Notifications that is the little speech bubble in the bottom right corner. Select Manage Notifications at the top.
Shortcut to emoji
Windows 10 has a special virtual keyboard for inserting emoji symbols when you chat, for example. It also contains currency signs and other symbols. In previous versions it was a bit tricky to get the keyboard, but with the 1909 update it goes smoothly. HOW? Press the Windows key and dot (.) Simultaneously to open the on-screen keyboard.
Visible Onedrive hits
You who use Microsoft's cloud service Onedrive can choose not to sync all files without leaving some in the Available Online mode. Nowadays you also get hits from these when you search through the Explorer. HOW? Search as usual; you will also see the search result for files stored in the cloud.
Expand without clicks
By default, the Windows 10 Start menu displays a number of important features such as icons on the far left. To see what these mean, you must click Extend at the top right, but this is not done in 1909. Windows 10 1909 (November 2019 Update) is available! It is indeed possible to download and install now the new half-yearly update for Windows 10: this is build 18363 that Microsoft has just deployed on public channels (Windows Update, media creation tool, etc.) this Tuesday, November 12, 2019, after having released and tested it on the rings of the Windows Insider program. Microsoft has announced the Windows 10 November 2019 Update (v1909), the second half of 2019. Microsoft also goint to launch new windows soon after that you can windows 11 download
Windows 10 November 2019 Update is considered an update that doesn't have many features. As previously announced New in this version are just
Create appointments on the calendar from the Taskbar.
Added a button in the Action Center to customize notifications. Can be ordered in order
File Explorer's search box can search for files in OneDrive, even those in the cloud.
The left side bar in the Start Menu can be stretched when pointing the mouse.
The Lock Screen page adds options to use personal assistants other than Cortana.
On the same occasion that Windows 10 v1909 was released, Microsoft also announced to stop supporting Windows 10 v1803 (April 2018 Update), which will alert users to update to a newer version of Windows 10. We're getting closer to releasing the Windows 10 version for the November 2019 or 1909 monthly version, which many of you may have had a bad experience with allowing Windows 10 to automatically update. Therefore, as a precaution to prevent Windows 10 from updating itself to version 1909 before you allow it We would like to present to you how to block updates of Windows 10 to everyone. By the method there will be the following.